Sharing podcasts has never been easy, but I've always tried to lead the way with Overcast, with publicly shareable episode links and optional recommendations from your Twitter friends since version 1.0 in 2014.
Podcast sharing has been limited to audio and links, but today's social networks are more reliant on images and video, especially Instagram. Podcasts need video clips to be shared more easily today.
I've seen some video clips from tools specific to certain podcast networks or hosts, but they were never available to everyone, or for every show. So people mostly just haven't shared podcast clips, understandably, because it has been too hard.
Not anymore.
This remark on Unco by Stephen Hackett inspired me to finally solve this problem in a way that worked easily, for all podcasts, for both podcasters and listeners to use.
With today's 2019.4 update1, you can now share audio or video clips, up to a minute each, from any public podcast. Simply tap the share button in the upper-right corner.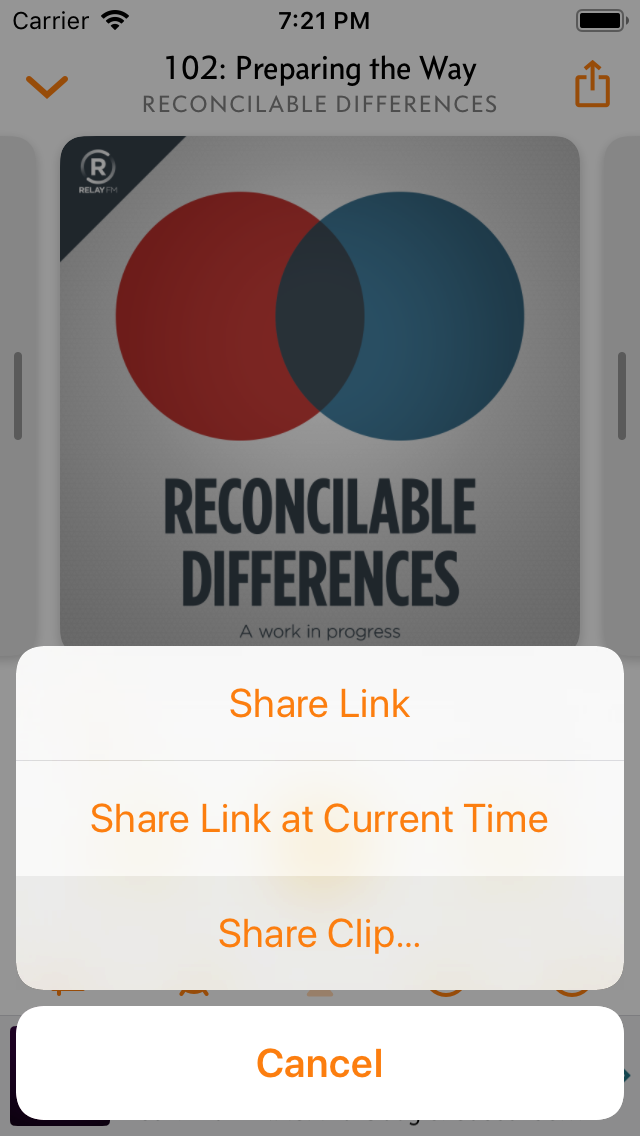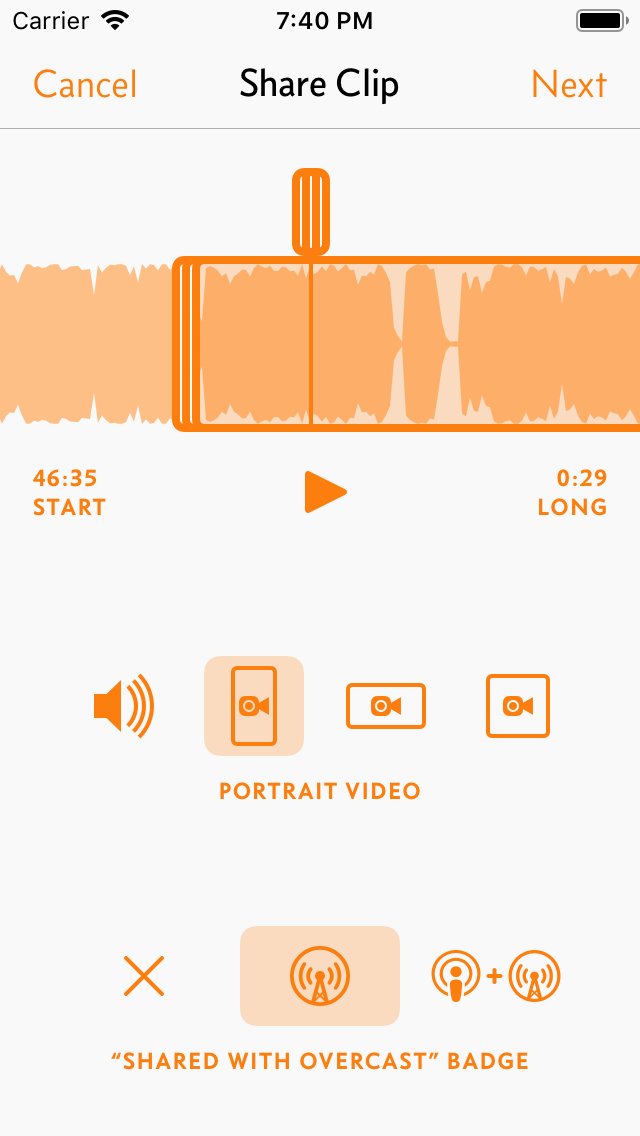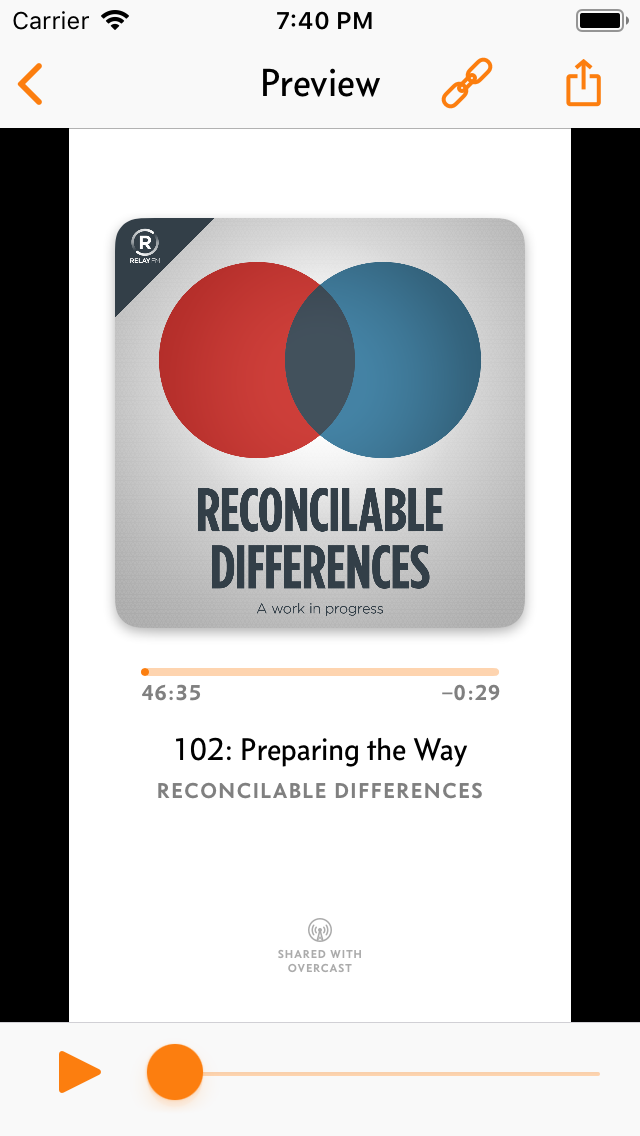 You can generate an audio clip, or portrait, landscape, or square video, using your current Overcast theme setting.
In order to help spread podcasts further, I didn't want to be heavy-handed in the Overcast branding — not everyone wants to advertise for one specific podcast app when promoting their shows. So the "Shared with Overcast" badge is optional, and if you'd like, you can also add an Apple Podcasts badge.
Finally, I wanted to extend the same app-agnosticism to Overcast's share links. While this design still needs a lot of modernization, I've done a small refresh: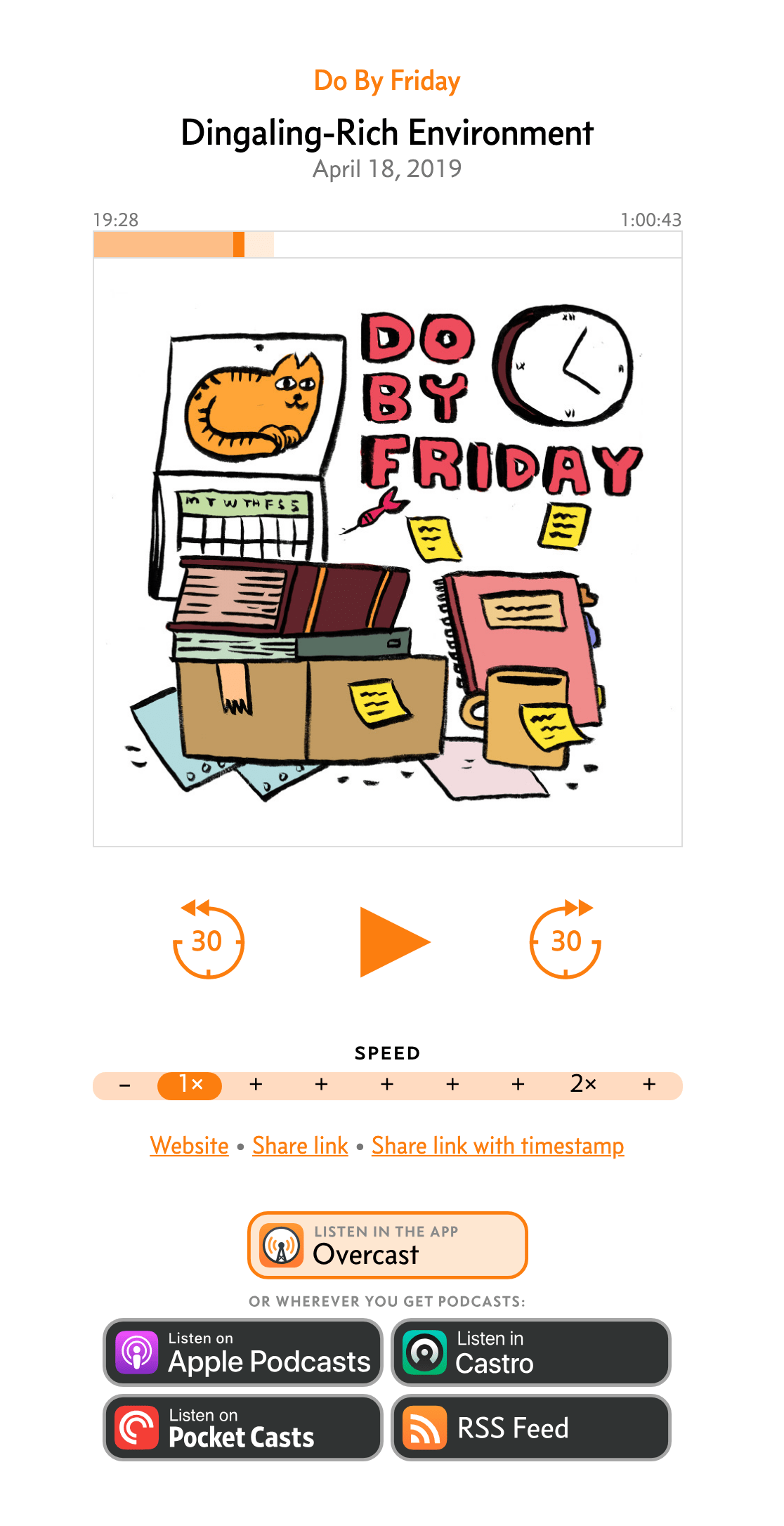 Now, for non-logged-in visitors, Overcast's public sharing pages display badges for other podcast apps and the RSS feed for any podcast listed in Apple Podcasts.
It's important for me to promote other apps like this, and to make it easy even for other people's customers to benefit from Overcast's sharing features, because there are much bigger threats than letting other open-ecosystem podcast apps get a few more users.
For podcasting to remain open and free, we must not leave major shortcomings for proprietary, locked-down services to exploit.2 Conversely, the more we strengthen the open podcast ecosystem with content, functionality, and ease of use, the larger the barrier becomes that any walled garden must overcome to be compelling.
One of the most common shortcomings we hear is that podcasts are hard to share. Hopefully, Overcast's new clip-sharing feature changes that, and other apps build similar features soon.
So go get Overcast and start sharing your favorite moments. It'll help me, of course, but more importantly, it'll help your favorite shows gain listeners, and it'll strengthen the amazing, open, standards-based world of podcasting.
---
Like Slopes and Castro, I've changed to a date-based version-numbering scheme — 2019.4 is the fourth update released in 2019, the next version will be 2019.5, and so on — partly because version numbers don't really matter anymore, but mostly because I no longer wanted to delay completed features until a major-version change or worry that I didn't do enough to justify a certain number. ↩︎

YouTube was able to dominate video because it made everything easy in a medium that (at the time) was very hard to do elsewhere. If a proprietary service takes a very hard aspect of podcasting and makes it very easy, it may rapidly rise to prominence.

Other major shortcomings I'm concerned about: the difficulty of getting sponsorships for small shows ("AdSense for podcasts"), and the complexity of creation and publishing ("Tumblr for podcasts"). This is probably why Spotify bought Anchor. ↩︎