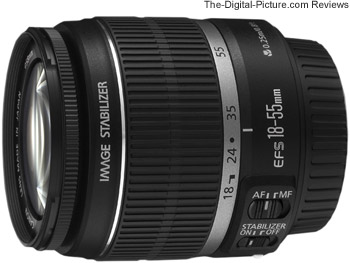 Canon's new $180 image-stabilized kit lens. I had no idea this existed until Tal Atlas asked me about it.
Basically, it's a newer version of Canon's 18-55 kit lens, but with an image stabilizer (IS) added. That's an incredibly compelling feature, and at $180, it's the cheapest IS lens by a lot. (The next step up is the $500 17-85 IS, or my personal favorite, the amazing $950 17-55 IS.)
Summary:
Optical quality is terrible. Not sharp, lots of CA.
Its maximum aperture of f/3.5 is mediocre - and as you zoom in, it gradually narrows to f/5.6, which is very slow.
It doesn't use a USM focus motor, so autofocus is slow and loud.
Manual-focus control is awful.
Build quality is terrible. Its barrel is all plastic.
The front element rotates, so you can't effectively use many filters, including polarizers.
But it's only $180 - that's pocket change in the lens market. It's also very small and light. For the price, it's a great deal.
If you're really on a budget and absolutely will not be able to afford a nicer lens in the foreseeable future… you probably shouldn't have bought an SLR. But if you did anyway, this might be a good buy.
Under any other circumstances, though, I suggest that you save your $180 and put it toward the $950 17-55 IS USM, the best general-purpose SLR lens on the market from any manufacturer.