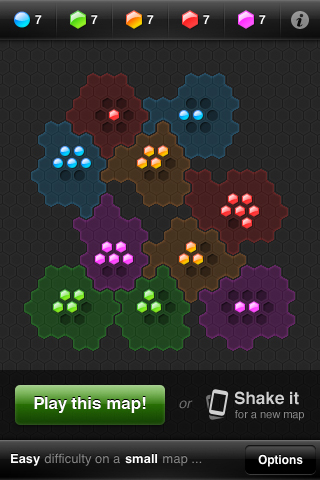 Strategery ($2) is awesome — it has quickly become my most-played iPhone game.
It's like a simple, fast version of Risk. Once you get good, you can breeze through a round in a few minutes. And there are a lot of different options (map size, army placement, land-grab mode) that significantly change how it plays and which strategies are effective, giving lots of replay value.
Quick tips and notes:
You can just tap the "Shake it for a new map" area instead of shaking the phone.
Medium-sized maps seem best. Large is too large and the end-game gets ridiculous.
I climbed up to Brutal difficulty pretty quickly, and it's very satisfying — I don't need it to be any easier or harder than that. I can manage almost a 1:1 win/loss ratio (currently 45:51).
Make sure you read the "Learn how to play" overview. There are a few significant mechanical differences from Risk, such as how the number of bonus armies is calculated (number of countries in largest contiguous group) and how the dice-roll winner is determined (sum vs. sum, not highest-vs.-highest).
My favorite configuration: Brutal, Medium, Blue goes first ON, Manual bonus army placement, Winner keeps all OFF, Land grab ON.