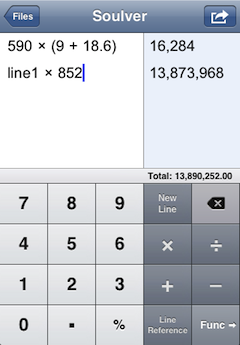 Soulver for iPhone, the iPhone port of my favorite calculation scratchpad, was just released. I've been beta-testing it for months (and may have bugged them into making it in the first place), and its beta version ("Sums") was even in my First & 20 profile.
Soulver for Mac is always open on all of my computers — home, work, and laptop. It's a calculator, a numeric scratchpad, and a simple spreadsheet all in one simple, fast, inexpensive program with almost no interface.
Nobody ever knows what it is, but everyone who sees me use it always asks, "Hey, what's that?" And when they see what it does, they instantly download their own demo copy.
If you frequently perform calculations throughout the day, you need to try Soulver. If you like it, buy it. And strongly consider the iPhone version as a Calculator replacement.