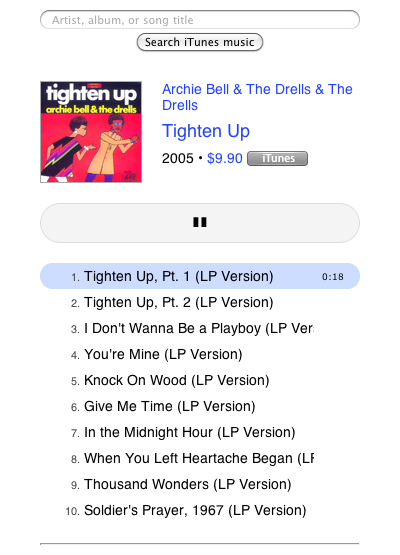 Preview.fm: An experiment for fast browsing of full albums.
I buy full albums, not singles. I listen to the complete albums, and I don't use shuffle. My iTunes is sorted by "Album by Year". I like albums.
But as this increasingly becomes a minority opinion, music storefronts like iTunes and Amazon MP3 are encouraged to build their interfaces and priorities around hit singles. As a result, whenever I discover a new band and browse their albums to decide which to buy, the storefront interfaces often work against me, making it difficult to quickly find a band's albums and navigate between a bunch of them for preview and comparison.
So I made this.
Pros:
It's very fast — much faster than searching and navigating between albums in iTunes.
Albums get clean, short URLs, useful for blogging or pasting into chat, IMs, or Twitter.
You can open up a bunch of albums in tabs for consideration when you're checking out a new band.
You can hit the Play button and it plays all preview tracks in full quality. (Amazon MP3 can work in tabs, but its previews are low-quality. iTunes did finally add a Preview All button, but its navigation is slow.)
Cons:
Only works in Chrome and Safari so far. Mozilla chose not to support MP3 and M4A files in HTML5 <audio> players in Firefox, making their <audio> implementation useless to pragmatic web developers in practice (just like their <video> implementation). At some point, I might add Firefox support using a Flash audio player, which will be a lot of work and will benefit nobody except Firefox users. (Sounds a lot like what web designers need to do for Internet Explorer support.) Yes, Firefox users, you'll need to use Flash, because your browser maker is taking a political stand against proprietary formats. (?)
Occasionally crashes Safari. I don't know exactly why yet, but my best guess is that either I'm creating a strange Javascript condition somewhere, or it doesn't like me creating so many HTML5 <audio> players at once.
Might only work for the U.S. iTunes Store.
Disclosure: The iTunes links are affiliate links, and I will receive 5% of the sale price if you buy an album from Preview.fm. So buy a $9.99 album and I'll get 50 glorious cents. Buy 20 of them and I can buy my own album! It's like those terrible "Get 10 CDs free!" music clubs from middle school, but in reverse. (Some of my 10 free CDs in middle school: Trio, White Town, Erasure. Remember any of yours?)