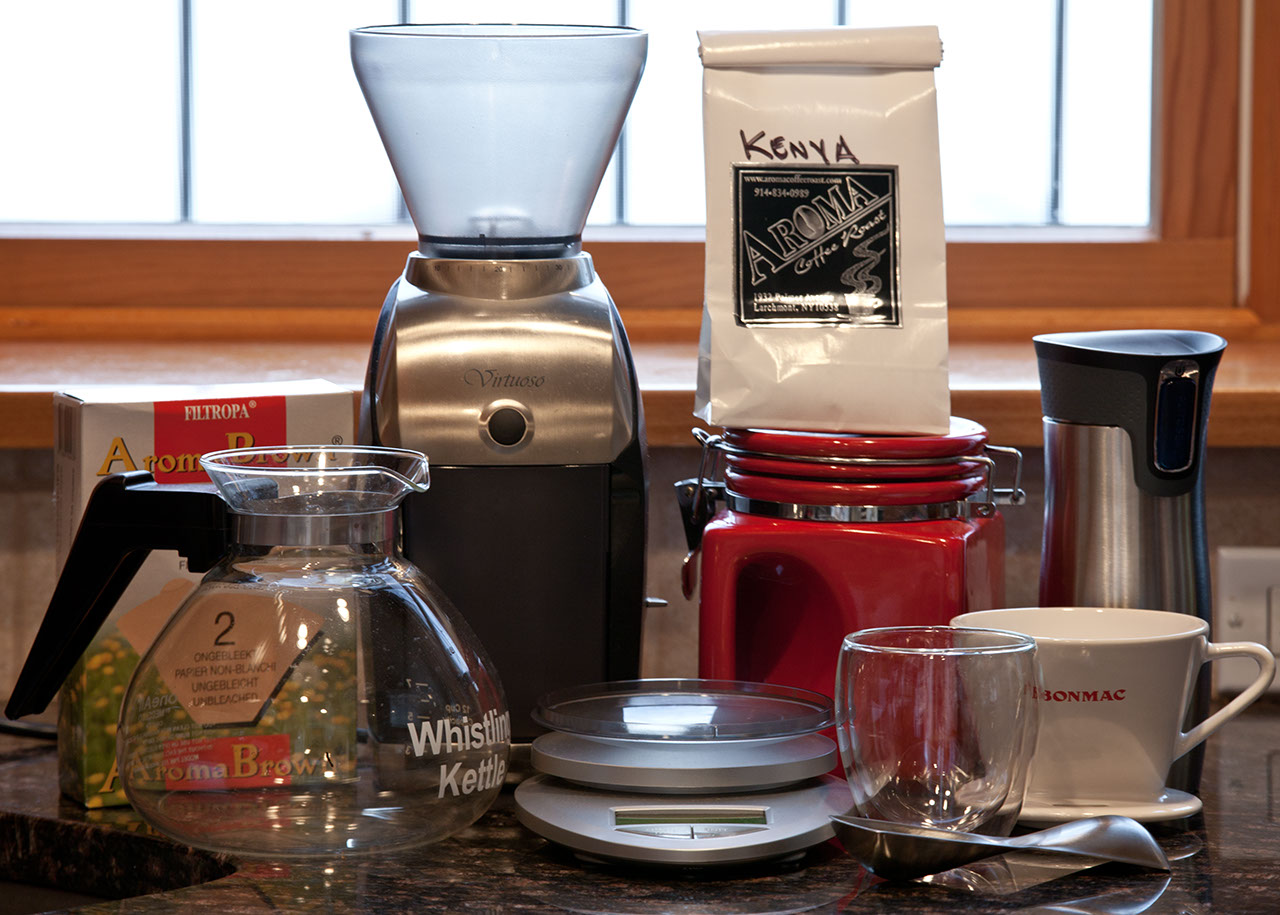 The coffee setup, 2010.
I own a lot of ways to make coffee, but I've settled into a pattern of using primarily these for home preparation.
It's a way to make one cup at a time, in less time than it takes to use a normal drip pot, with much easier cleanup, and with a much better cup as a result.
Pictured, left to right:
Filtropa Aroma Brown #2 paper filters.
What I call the "Helvetica Kettle". It's the Medelco glass kettle available pretty much anywhere for about $12. It's dishwasher-safe and transparent, which make it far more useful in practice than any metal kettle.
Baratza Virtuoso conical burr grinder. (Tiff calls it the "Comical Bird Grinder".) For this method, you can get away with a much less fancy grinder, but this one is big and heavy and awesome.
EatSmart Precision Pro kitchen scale. We just got a scale last fall for the first time, and end up using it much more than I expected. You'd be surprised how often a kitchen scale is useful.
Beans from Aroma in Larchmont, by far the best coffee I've ever had. (Better than Stumptown, and better than the $15,000 Clover machine at Cafe Grumpy.) My favorite varietal is Kenya AA. I also love their Harrar and Celebes, but they spoil quickly, and I usually keep my beans for 3-4 weeks since I have to drive across the county to get them.
Nondescript red canister with rubber gasket and spring clip that annoyingly holds about 0.9 pounds of coffee. I'd gladly trade it for one that's 11% larger, but haven't found one that I like better than this one yet.
Bodum Pavina 8.5-oz. double-walled glass. Amazon reviewers scared me by saying how easily they break, so I've been careful, and I've had the same set of four since 2007. When I break them all, I'll buy more.
Metal coffee/tea scoop that I can't find a link for, but I think I saw one in Crate & Barrel ("The Helvetica Store") once.
Bonmac #2 Single Hole porcelain filter-cone brewer. Essentially, a coffee-filter-sized funnel with a hole at the bottom.
Contigo thermal mug for car trips. It's good, not amazing, but I've never found a travel mug that I thought was amazing.
To brew a cup, I:
Pour about 5.5 ounces of water into the Helvetica Kettle. (Measured on the scale.) Set it on fire.
Grind 8 grams of beans (measured on the scale) at medium coarseness.
Rinse the filter with hot water (to remove paper taste, supposedly) and let some of the hot water sit in the filter-cone to heat it up (so the coffee water doesn't lose too much heat to a cold cone).
Drain the cone, set up the filter in it, dump the coffee grounds in, and set it on top of the glass.
The water will probably be boiling right when this is done. (It's quick. It's not very much water.) Pour a bit in to wet the grounds (the "bloom" phase), wait about 10 seconds, then slowly pour the rest in, in small circle motions to get near the edges but not pour directly onto the paper areas, and pausing whenever it starts pooling up very much. The whole pour takes around 90 seconds. I'm done when I run out of water. Easy.
Wait a minute for the last few drips, and to let it cool slightly in the cup.
Drink.
WHOAH CAFFEINE.