Webstock 2011 was amazing.
I was one of the speakers — a great honor in itself, considering the others — and they treated me and my wife like royalty the entire time.
I can't possibly overstate how great they were, constantly going out of the way to ensure that we had anything we could possibly want. They pre-paid for our hotel Wi-Fi, booked us for late check-outs, and even booked our rooms the night before we arrived so we could check in right after our morning arrivals from the airport, without waiting like a jet-lagged zombie until the usual afternoon check-in times at most hotels.
Many of us requested scotch or bourbon after our talks, even if that meant at 10:30 AM, and they were happy to oblige. (Josh Clark humorously requested two beers, which they delivered ornately in a champagne ice-bucket.)
We all requested alcohol after our talks because we were nervous leading up to them — not because of any negative influences, but because the conference was just so good that we wanted to make sure we matched everyone else's presentation quality.
Every little detail mattered: this was an extremely well-designed, thoughtful conference. The badges had our names printed on both sides (so you could always see who people were) and opened up to reveal a schedule and map inside, printed upside-down so we could read them while wearing it. The technical execution was as flawless as I've ever seen, with enough preparation and accommodation that attendees never needed to see a presenter's desktop, watch a projector reboot, or wait for anyone to fumble with a laptop's video output.
The presenters wanted to be great, to push ourselves, because the rest of the conference was just so good that we were motivated to raise the bar as high as possible. Greatness inspires greatness.
And Wellington, New Zealand is a great place to spend a week, even if it takes you a day or two to get there. The weather's amazing, the food and drinks are affordable, and the people are incredibly nice and hospitable.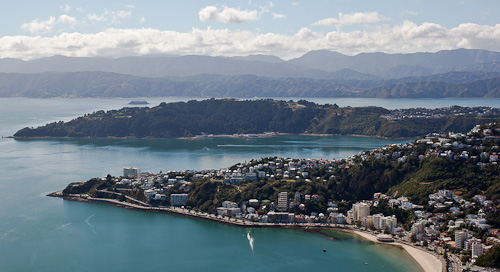 I took this picture from a helicopter. We suggest doing that.
The coffee
Wellington takes its coffee seriously — more seriously than I've ever seen a place take its coffee — so naturally, I had to try a lot of it. The highlights: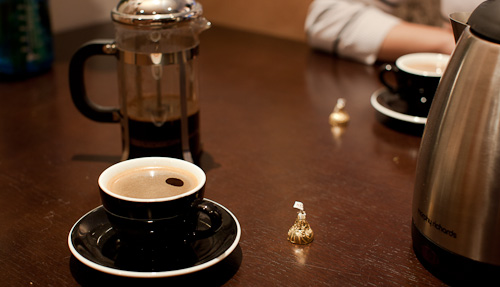 The Museum Hotel: Our hotel room came with a Bodum French press and an electric water kettle. On check-in, they gave us a handful of generously portioned hand-taped envelopes of what seemed to be pretty freshly ground coffee for it. It was surprisingly good — by far the best coffee I've ever had in a hotel room, and better than much of the coffee I've had outside of one.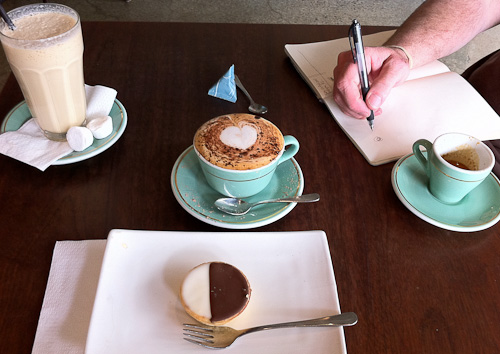 Mojo: A local chain, with locations every few blocks, serving mostly espresso-based drinks and pastries. Great presentation, good coffee. (Those little black-and-white pastries are great.)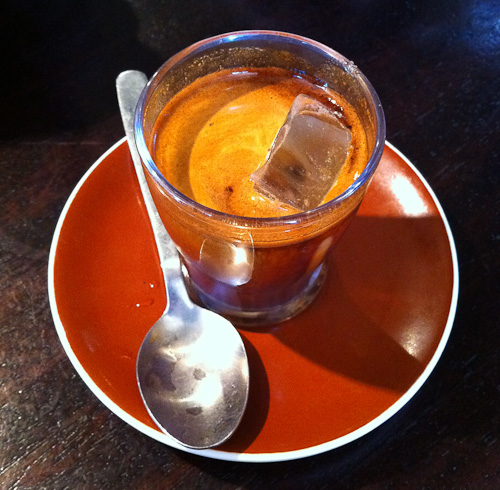 Cafe L'affare: Espresso-based drinks only, but they offered a huge variety. This little iced shot, the Bongo On The Rocks, was great: it's like an iced ristretto with a bit of water, a tiny amount of cream on top, and a few large granules of sugar on the bottom.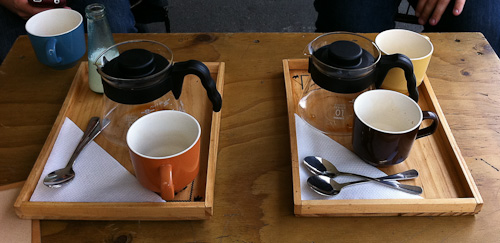 Customs Brew Bar: One of the only places serving true drip coffee, not just espresso, this was my favorite coffee place on the trip. Sorry, I didn't take any photos of the coffee before we drank it all, because it was too good to pause for a photo.
They offer about ten single-origin coffees to choose from, with your choice of brewing method, which included the Chemex and nearly everything Hario makes. (We went with dual V60s, each with these two-person Hario serving pots below them, so we could serve four people at once.)
The alcohol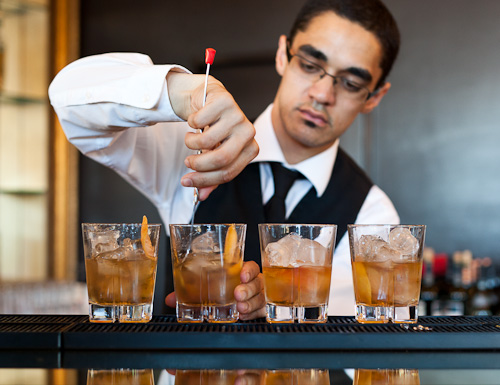 (Photo by Tiff.)
This is Houston, a bartender at The Museum Hotel. Ask him to make you an Old Fashioned with Buffalo Trace, demerara sugar, his choice of bitters, and grapefruit.
I'll warn you, though: anyone who tries it (or even watches him make it) will want one, and you might deplete the hotel's supply of Buffalo Trace… three times in a week.
Thank you, Webstock!
We can't thank the Webstock organizers enough for the fun, luxurious trip to this amazing conference. I highly suggest Webstock to anyone able to attend it in the future.
Thank you so much.