Recently, I've had a recurring Wi-Fi issue:
A device shows full Wi-Fi signal strength, as it normally does at home.

Almost daily, the device stops being able to connect to the internet over Wi-Fi, but doesn't report this as a connectivity problem — connections just sit there, spinning, waiting, until they eventually time out and fail. (Like AT&T in Manhattan.)

This happened most often on my iPhone 5 with the latest iOS version (6.1.4), but it also happened with the previous version (6.1.3) at the same frequency.

Connectivity could be restored instantly, every time, by turning off the Wi-Fi, turning it on again, and letting it reconnect to the base station.
I complained on Twitter, and this sounds like a widespread issue with AirPort Extreme Base Stations and Time Capsules running the newest firmware, version 7.6.3. A number of people said downgrading to 7.6.1 completely fixed the issue for them, so I tried it.
I didn't even know how to downgrade. Here's how: in AirPort Utility, hold Option while hovering over the firmware version, and it becomes a drop-down menu. Pick whatever firmware you'd like and click Update. (warning: at your own risk, I don't know, etc.)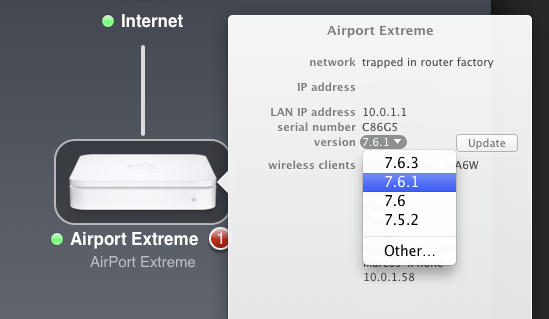 I did this five days ago, and the problem hasn't recurred once. A few additional people since then have reported similar results.
If you're having this problem, downgrading to 7.6.1 may fix it.