I've recently heard from a few developers that the "unfiltered-internet apps must be rated 17+" rule is being intermittently enforced again by Apple's app reviewers.
Effectively, apps that have embedded webviews that potentially could show inappropriate content to children need to be rated 17+ for "Frequent/Intense Mature/Suggestive Themes". This warning is displayed prominently to people buying the app.
There are two major problems with this.
Inconsistent enforcement
Ever since this rule's creation in 2009, it has been enforced extremely inconsistently. Even today, you can see huge disparities in ratings for similar apps:
General-purpose web browsers:
Atomic Web Browser and AdBlock Web Browser: 17+ for only "Frequent/Intense Mature/Suggestive Themes".
Puffin Web Browser: 17+ for "Frequent/Intense Mature/Suggestive Themes" and "Infrequent/Mild" everything else: profanity, crude humor, horror, fear, alcohol, tobacco, drug use, simulated gambling, cartoon or fantasy violence, realistic violence, sexual content, and nudity.
Mercury Web Browser Pro: 17+ for "Frequent/Intense" everything.
Knowtilus Web Browser: 17+ for "Frequent/Intense" cartoon or fantasy violence and alcohol, tobacco, or drug use references, but nothing else.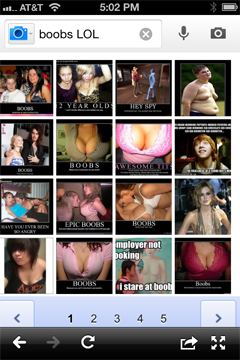 Apps that are basically web browsers with search boxes instead of URL bars:
Google Search: 4+ (no restrictions)
Yahoo: 4+
Bing: 4+
Wikipedia apps:
Wikipedia Mobile: 4+
Wikibot: 4+
Wiki Offline: 4+
Articles: 9+ for "Infrequent/Mild Mature/Suggestive Themes"
Wikipanion: 9+ for "Infrequent/Mild Mature/Suggestive Themes"
Simplepedia: 9+ for "Infrequent/Mild Mature/Suggestive Themes"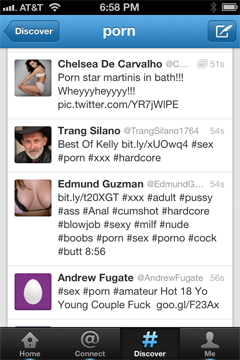 Twitter apps:
Can't find any that are above 4+.
RSS readers:
Can't find any that are above 4+.
Dictionaries:
Dictionary.com: 4+
Merriam-Webster: 4+
Dictionary+: 4+
WordBook: 9+ for "Infrequent/Mild Profanity or Crude Humor"
Terminology: 9+ for "Infrequent/Mild Mature/Suggestive Themes"
You get the idea. It seems that some app reviewers require the 17+ rating on some types of apps, citing "unfiltered internet access". Not all app types that can display unfiltered web content are required to be rated 17+, and not all require-17+ apps actually have the rule enforced during review.
This rating can hinder an app's sales, and if it's not enforced consistently within a category, it can give a very unfair advantage to the apps that dodge the bullets.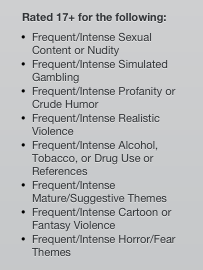 Misleading descriptions
Back in 2009, Instapaper caught a 17+ bullet and I was forced to add a 17+ rating for "Frequent/Intense Mature/Suggestive Themes".
I got a lot of emails from angry or confused people who saw that rating and thought my app was full of hardcore sex. (Can you blame them, given how it's worded?) Some were scared to install it because they didn't want to get in trouble at work. Some were scared that my app would corrupt their children. Many others just didn't want to see offensive material themselves. I lost a lot of potential customers.
The problem is how it's worded: these apps don't contain "Frequent/Intense" offensiveness, but the App Store makes it sound like they do. Rather, they are capable of accessing arbitrary internet content at the user's direction, which could be offensive material if the user seeks it out.
That's a very important distinction. Safari could be used to access offensive material. With some creativity, so could Mail. But they don't display scary warnings about offensive content whenever they're updated with the OS.
And why these categories? "Mature/Suggestive Themes" doesn't make a lot of sense in the context of apps. "Frequent/Intense Sexual Content or Nudity" isn't even allowed in the App Store. Are these just carried over from the iTunes music and video back-end?
The App Store is big enough to justify its own criteria and descriptions that make sense.
The purpose of ratings
These ratings are mostly for parental controls (Settings, General, Restrictions).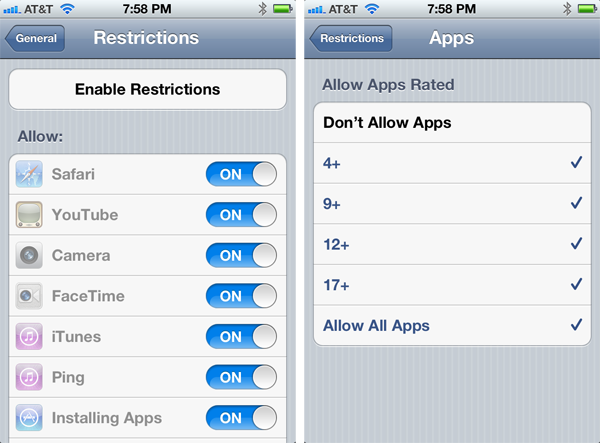 Right there on top is a great, obvious acknowledgement of the difference between containing and being able to access offensive content: the ability to disable Safari. If you don't want your kids browsing the internet freely, you can turn that off.
The rationale behind the inconsistently-enforced "Applications must be rated accordingly for the highest level of content that the user is able to access" policy is to avoid undermining these controls. Parents who disable Safari don't want their kids just downloading Atomic Web Browser instead.
But the current solution is inconsistent, arbitrary, unfair, and ineffective: entire categories of web-browsing and web-content apps are still permitted to bear 4+ ratings. Teenagers who can't look at porn in Safari or Atomic Web Browser can just get there from Google Search or Twitter instead.
I suggested a much better solution almost three years ago:
Add another rating category. Call it something like "Can access unfiltered web content." Require all apps with such abilities to select that classification in iTunes Connect.
Then add the ability to run such apps as a separate control in the Restrictions panel.