Our baby, Adam, was born 8 months ago. We've had a lot of help along the way from some useful baby products, but it's often hard to find the right ones. Everyone's always asking us for recommendations, so here's a big list of our favorites.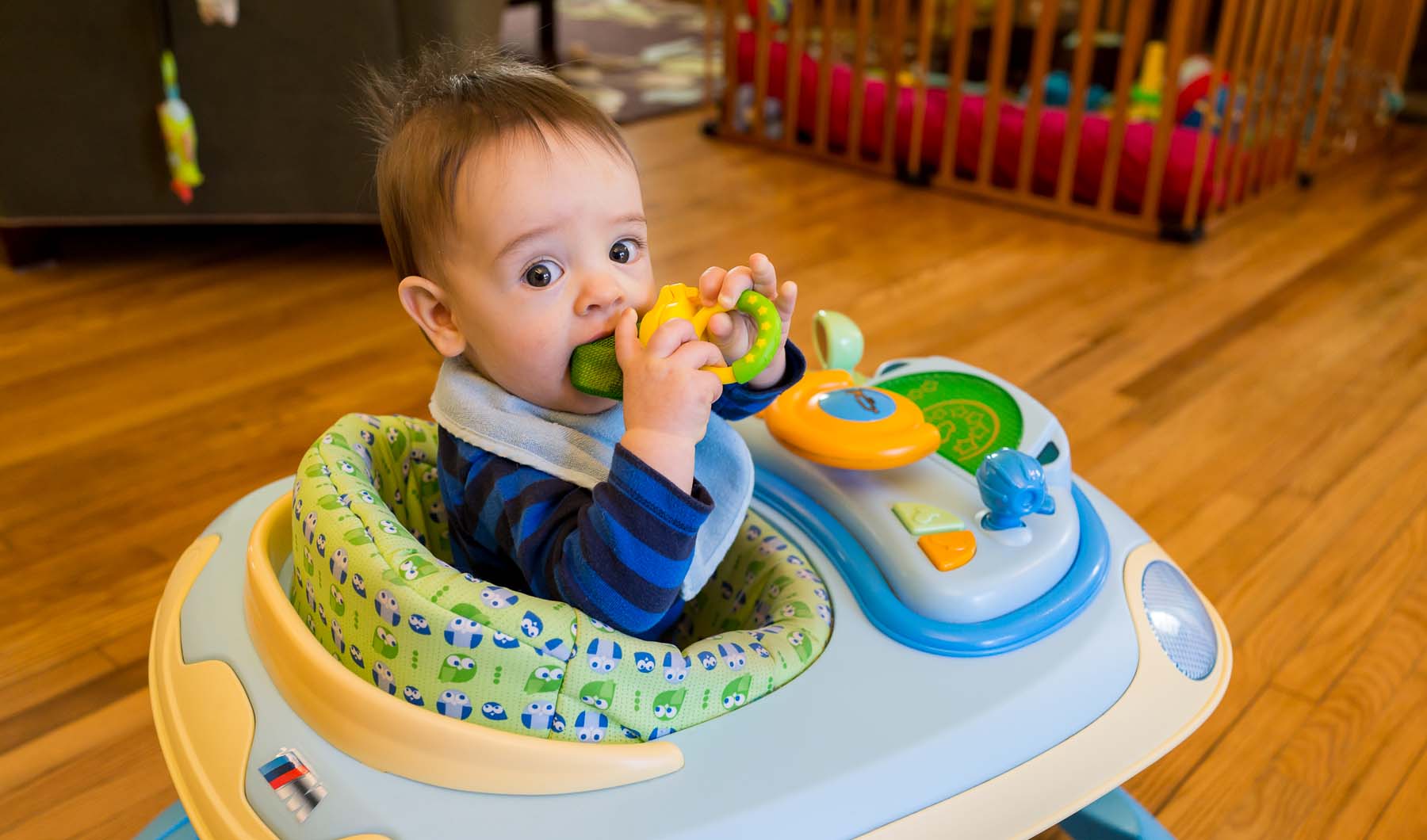 Adam in his Chicco "car", enjoying a pear in his Munchkin net. The "M" is aftermarket.
Naturepedic changing pad: It has no chemical smell when it's new, the cover isn't "crunchy"-sounding, and it's a bit longer than standard changing pads but still fits standard covers (barely). It's contoured on all four sides, so the baby really sits in it, especially when they're very young. It's expensive, but it's great.
OXO wipes dispenser: Highly recommended. It offers true one-handed operation, and it's heavy enough to pull wipes from without lifting off the table or falling over. It's also extremely easy to refill. And when you're reaching for another wipe when trying to change a wiggly baby, you'll never get a stuck one. These all matter more than you might think.
Mustela baby shampoo and bath soap: It's safe, smells great, cleans well, and leaves everyone's skin soft afterward. It doesn't feel sticky or leave residue behind. Mustela's lotion and no-rinse cleaner have the same scent and also work well.
Nosefrida Snotsucker: It fits in the baby's nose without us having to worry about going in too far. When he was very young, he didn't mind it at all. It's much easier to clean out than the bulb suckers, and replacement parts are available if needed.
Motorola MBP36 baby monitor: We tried the fancy Withings monitor that showed the video on our iPhones, but it was unreliable, inserted a significant delay, and would freeze the stream for minutes at a time without warning or notice — exactly what you don't want from your baby monitor. We switched to this cheaper, standalone Motorola monitor and love it: it has a huge color screen, decent battery life (especially when you turn off the screen and just listen to the audio), night vision, temperature monitoring, and useful motorized panning so you can keep track of babies who move around their cribs a lot. The audio-level lights are also nice so you easily notice increased noise levels even with the volume set reasonably low. And having the monitor be separate from our iPhones is actually a benefit: you can keep it somewhere central instead of in your pocket, and it doesn't drain your phone's battery. Highly recommended.
Miracle Blanket: The baby is very secure and can't get out, and it's nice that this blanket doesn't use loud, annoying Velcro to fasten. The foot pocket is great, and much better at keeping the baby's feet in than a normal rectangular blanket.
You'll need lots of receiving blankets, such as Carter's or whatever you find in the baby stores. They're all about the same sizes and come in multi-packs. You'll use them for nearly everything, but they become less useful as the baby gets older than about 6 months. They're a bit too small to be swaddlers past infancy, though.
Aden + Anais swaddling blankets: Don't be scared off by the price: they're completely worth it, and aren't just regular receiving blankets. Their larger size makes them more versatile, and the muslin is stretchy so you can get a tighter wrap when swaddling. We've used them as swaddlers, receiving blankets, draw blankets, regular blankets, nursing cloths, and nursing covers. Regular receiving blankets are softer and more general-purpose, though, so you do need both — but these are better at certain things.
Closet organizer rings: These are very useful in organizing the baby's clothes by age and size, so you can easily find outfits that the baby will fit into at any given age. Arranging by size makes it much easier than a typical adult method of arranging by clothing type.
Philips Avent Soothie pacifier: If you use pacifiers, buy multiple packs (maybe 6 or 8 pacifiers to start). Our baby likes these much more than the others we tried. There's no hard or sharp plastic at the base, he can hold them more easily, and now that he's starting to teethe, he loves turning it around and chewing on it from all angles. It's also easy to stick on one of your fingers as you're holding other things or babies. As a novelty bonus, you can look through it and see inside the baby's mouth during use. Slight con: they bounce and can roll quite far if dropped, and will always find a way to land under the couch or dog.
Booginhead PaciGrip pacifier holder: Absolutely required. You can clip a pacifier right to the baby's blanket, clothing, or car seat. You'll be washing pacifiers all day if you don't have a couple of these.
Skip Hop play mat (various "friends" available): Teaches the baby early to grab and look at objects. Later on, he can sit up and reach for things. You can also detach the built-in toys and add your own for variety. We were on the fence about getting one of these, but we're glad we did: it's a great everyday amusement, and helps a lot with development of various skills. It folds nicely for travel or storage.
SoftSpot play mat and your choice of cover: Pairs well with the Skip Hop play mat as an additional cushioning layer underneath it, and can also be used alone. Similar thickness and feel as a gym mat: we felt safer with the baby on this than on any other surface when he started sitting up, tipping over, and crawling. It also folds easily for travel or storage, and we frequently get compliments on it.
Babyganics foam dish soap: Love it, and the foam-pump dispenser is very convenient. We keep a separate sponge for the baby items for extra cleanliness and protection. Big refill bottles are also available.
Sassy bottle brush: You definitely need a bottle brush, but we're not sure you need this one. It fits well into the small breast-pump bottles, which is a must. But the flip-out nipple brush breaks off easily. We didn't use the soap reservoir because we used the Babyganics pump-foam soap instead.
Medela quick-steam bags: We started using these very late in our baby's breastfeeding, and were just doing 10-minute boils on all of the pump parts and bottles every time, which became very time-consuming (and used a lot of water and stove gas). When we finally tried these microwaveable steam bags on a trip, we were pleasantly surprised how well they worked and how much faster and easier they were than boiling.
Boon Grass drying rack: We also get frequent compliments on this. It's a surprisingly useful drying rack for bottles, breast-pump parts, pacifiers, and other small things that need to be washed a lot. We used ours for drying the pump parts after boiling sterilizations to keep them separate from our regular kitchen rack. Add a couple of optional flowers (don't boil them, we warped one) to hold more, especially bottle nipples and collars. For a more depressing option, it's also available in "winter" gray-white with dead trees.
Milkies Milk-Saver: Yes, it looks ridiculous, and you'll feel like a chump paying over $25 for a piece of plastic. But it really does work, and can capture about an ounce of milk from the inactive breast per feeding or pumping that would otherwise just get wasted in a cloth or pad. But don't bend over or lie down before you empty it, or it will spill out. We wish we bought it sooner.
Dutailier Sleigh glider: It's very comfortable, and it's perfectly designed for nursing mothers. It has great head and neck support, it's easy to recline or reach items in the side pockets without disturbing the baby, and the rocking ottoman lets you rock with your feet up.
BabyBjörn Miracle carrier: Highly recommended. We have four other simpler carriers, including the Moby Wrap, but the Björn is by far the best and most useful. It's especially useful because both parents can easily use it and it's the fastest to get the baby in and out of. It also expands to grow with the baby, they can face either way (in when very young, out when more curious and easily bored), and it has excellent back support for the carrying parent. It's great to free up your arms around the house, and it can also be used instead of a stroller on outings. We've used ours more than any stroller.
Graco SnugRider car-seat wheels: Converts your car seat into a basic stroller. Highly recommended. We thought we wouldn't need it at first since we have a fancy Bugaboo Chameleon stroller, but the Bugaboo is very large and barely fits in the trunks of our cars, so we mostly use it around our neighborhood instead of bringing it in the car everywhere. This inexpensive car-seat-wheels attachment is much smaller, folds into a manageable shape, and is just as good for basic outings. You can also keep the baby sleeping in the car seat and transport between the car and the wheels easily. And if you're bringing the baby into a store or restaurant, this is much more compact than a big pram-style infant stroller.
Brica car mirror: Extremely useful with rear-facing car seats so the driver and front passenger can see the baby.
Chicco walker (the baby's "car"): Highly recommended, although it's best if you have a lot of hard-floor area. We've had him in it from 4 months (as soon as his feet could barely touch the ground) because he kept wanting to stand up. It's extremely freeing for parents: you can put him in the walker and he'll follow you around the house on his own while you can do anything else with your arms. It builds leg strength, coordination, and walking skills, and it's remarkably safe: rubber pads on the bottom stop it immediately and firmly, like skiing onto a patch of grass, if any wheel goes off the edge of a step. It's easy to clean, and the "activity" module detaches so it can be used as a tray for basic feeding (although you'll hurt your back by bending over too much if you always feed your baby in it). By 6 months, our baby was extremely good at "driving", easily completing 3-point turns and freeing himself from getting stuck on carpets, and we were able to keep him entertained by hanging toys from doorknobs and the couch as "baby traps". Also, fair warning: you'll get little dents on all of your furniture legs about an inch above the floor.
OXO high chair: Looks nice, not overly tacky or plasticky. It's extremely sturdy, easy to get the baby in and out of, and very easy to clean (recommended cleaner), and versatile enough to grow with the baby. It's expensive, but after testing the others in stores, we liked the look, feel, and quality of the OXO far more. One word of caution: When evaulating these in a store, they aren't always fully tightened or assembled properly. The first one we saw was rickety and wobbly, but the properly-built ones are rock-solid. We've had ours assembled for 8 months and it hasn't even needed to be re-tightened.
Inglesina portable high chair: Great, and necessary, if you're away from home for long enough that you'll need to put non-milk food in your baby. Extremely useful for traveling, since it folds flat into a built-in pouch. So far, it's been able to attach very securely to every table we've tried. Keep it in your car. There's no head support, so it's only appropriate for babies that can sit up on their own — ours started using it at 6 months.
OXO spoons: They're very easy to hold and have an ideal angle and shape for feeding a baby, unlike most standard-shaped baby spoons. They scrape the inside of food jars very well, like a plastic spatula. (They also effectively scrape the misses off the baby's face, like a baby squeegee.) And the handle end is rounded plastic, rather than metal, so it's less scary if the baby gets a hold of the spoon and starts playing with it. We started out with regular baby spoons, but once we tried the OXOs, we never went back.
Munchkin Fresh Food Feeder: Highly recommended. Our current favorite baby item, this lets the baby easily eat fresh cut fruit without pureeing first, and keeps him entertained for a while as he works on it. He'll happily sit through an entire adult lunch or dinner at the table with this. We've successfully put pear, apple, banana, and mango pieces in it, but pears work best because they're so juicy and soft. He had no trouble figuring it out the first time, it's very easy for him to hold, and he sometimes uses the handle end as a teether. (Warning: Your baby may attempt to share this with your dog, or wipe sticky fruit juice all over any nearby surface.)
Petit Collage memory book: It's very simple to fill out, so it doesn't take a lot of time away from being a busy new parent. It guides you into specific details rather than just having tons of blank pages. Also comes with a little box with a drawer for small keepsakes such as hospital tags. The art style is also more modern than many others.
Diapers.com: Great delivery service for anything they sell, with free, very fast shipping. We've had very few problems, and for the few orders that have arrived damaged or late, they've gone above and beyond, offering fast replacements and even additional credit for the trouble. It's easy to call and talk to a human if you need service, and they're very friendly and professional. We also recommended them for the other items they sell, such as pet food, household cleaners and soaps, and toiletries — exactly the items that Amazon usually sucks for.
If you have any questions about what we liked and didn't like about these or any other baby products, you can email Tiff and she'll be happy to help.
Next: see our Toddler Stuff Review.