We got an amazing response from our huge baby stuff review last year. Adam is now almost 2 years old, and these are some of our favorite and most useful products that we recommend for toddlers and their parents.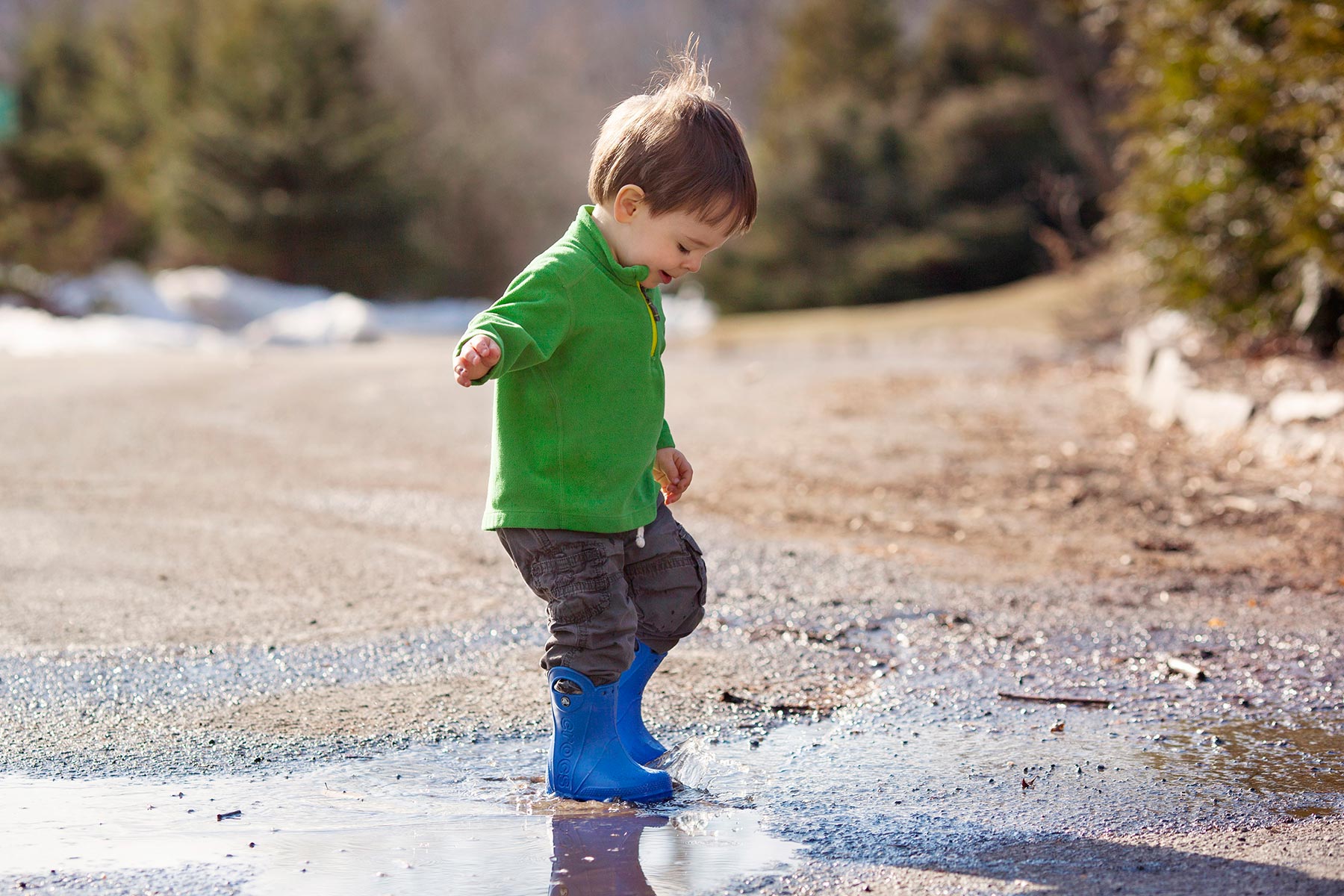 Adam stomping puddles in his Crocs rain boots. Photo by Tiff.
Britax Pavilion car seat (newer version): We wish we switched to this earlier — we didn't realize that we didn't need to wait for our kid to outgrow the mediocre, frustrating Graco SnugRide infant seat. In practice, the convertible seat wasn't very useful after about 6 months because carrying our kid in it became prohibitively heavy. The Britax Pavilion is a noticeable step up in quality — it's very nicely padded, it's easy to move between cars (much easier than removing the Graco bases), the straps hardly ever get tangled in use, and it adjusts to child growth without needing to be taken apart. The "Click and Safe" ratchet on the main tightness strap is very nice, too.
OXO Tot plate and silverware set, divided plate, and bowl set: All of these are great. The fork and spoon are very easy for the kid to hold, with thick, rubberized handles and intuitive curves. The fork is almost spoon-shaped, but it still has useful enough tines to pick up food. All of the plates and bowls have rubbery bottoms to prevent sliding, so they stay in place on high-chair tables until your kid learns to pick them up. The curved lip on the plates is nice for certain foods, but it's detachable for when it's not needed. The bowl lids snap tightly for transporting snacks in diaper bags or storing leftovers in the fridge. All of this stuff is dishwasher-safe, and also easy to clean by hand.
OXO screw-top snack cup: Great for Cheerios or the overly natural Cheerio alternative that we buy at Whole Foods (of course). Kids can reach in and grab a handful, but they can't easily spill the whole cup — at worst, they lose a handful at a time. We previously used the Munchkin snack catchers, which we loved until our son figured out how to remove the friction-fit lids. He hasn't figured out the Oxo screw-on lid yet, and the Oxo also has a nice sealed lid to attach when you want to bring this in a diaper bag or stroller pack.
Green Sprouts Eva plastic bibs: These are much easier to clean than cloth bibs once your toddler starts using silverware unassisted. Compared to fancier rigid plastic bibs, these are flexible, foldable, easily packed, and nearly weightless. You don't need many — we've been fine with just one 5-pack for over a year without wearing any out yet. Pro tip: Turn the pocket inside-out. This makes the pocket stay open wider, so it catches more food.
Planet Wise and Itzy Ritzy small/large wet/dry bags: A washable, reusable alternative to using a million plastic bags. We've used ours for transporting snacks, diapers, and wet or dirty clothes inside bigger bags to keep them separate. The lining is waterproof, but the zippers aren't — moisture won't soak through the bag, but they will leak if you spill a drink inside and turn it over.
Petunia Picklebottom Weekender diaper bag: We wanted a larger diaper bag when our toddler started needing more clothes changes, snacks, and toy diversions, and stopped breastfeeding. Tiff wanted "a girly bag that looked less like I was just lugging baby stuff all the time". This one is very useful, has tons of pockets, and is very spacious — it opens very widely, and some sections expand, so you can see the entire interior when packing, and you can always find what you need without much digging. It's also still fashionable enough that it's not just a "diaper bag" — it's just a really nice bag, and it will be useful long after we stop needing it for this role. Go see one in a store if you can. Some of them have a "wipeable exterior", but ours doesn't, and it hasn't been a problem.
Fisher Price Music Parade ride-on car: This thing looks so cheesy, we didn't think he'd like it. But he loves it. He pulls it all around the house and has been consistently amused by it for almost a year so far. He can push, pull, or ride on it. The seat opens and can store stuff. There's lots of buttons that play music and sounds. It's a 1-year-old's paradise. This might be his favorite toy.
Melissa and Doug cardboard blocks (or a bigger set): You've probably seen these in every preschool (including your own). We got our set at a yard sale for $2, thinking it was a risky purchase that our son might not like. The moment we brought them home, he was hooked and started instinctively building towers. They're exactly how you remember: strong, light, harmless, and cheap (even if you pay more than yard-sale prices).
Radio Flyer Walker Wagon: We got this to help our kid learn to walk. It's very sturdy and worked well for its purpose: since the wheels don't swivel, it only goes straight, making it easier to keep control. Now, over a year later, he still plays with it, sits in it, and pulls it around. And whenever other kids come over, they all want to play with it, too. The sides are easily removed, as they're only held in by gravity, so it's very versatile.
Step2 Whisper Ride push car: A fun alternative to a stroller for short walks: up and down the driveway, or at most, around the block. The handle folds down for easy transportation. The adult and kid each get a cup holder, and the kid loves opening the hood and putting stuff inside. And as he turns the wheel and squeaks the horn, he might feel like he's driving — whatever he thinks, he sure likes it.
Uppababy G-Lite portable stroller: Extremely lightweight collapsible stroller. We got it as a more portable alternative to our big Bugaboo, but most umbrella strollers didn't feel sturdy enough, and we're very happy with this choice. It collapses very small (although long), and it's easy and quick to open, yet it has most of the nice features of other large strollers, including a full sun-shade, a mesh carrying basket underneath, and a cup holder. In its folded position, it can stand upright, which is convenient when unpacking it. It's very maneuverable, and with the attached carrying strap, you can carry it on your back if you need to. Its many well-thought-out functions and its light, sturdy construction made this stand out from other similar models. We also got the optional case to keep our car trunks clean when the stroller wheels get dirty, and it's nice and very functional.
"i play" plastic summer shoes: These look like Crocs, but more stylish and with a full back. (We tried baby Crocs, too, but our son was able to walk in these more easily.) Socks are optional: they can be used like regular sneakers or water shoes. These were great all summer, as he loved playing with the hose in the front yard, and always found every puddle available for stomping while walking. We plan to get another pair this summer. We also recommend the Crocs rain boots for springtime puddle-stomping: they have no seams so water can't get in, they're very easy to put on, and the sole isn't too thick so they're easy for toddlers to walk in.
Zoli BOT sippy cup: When they're clean and fully sealed, these are the best sippy cups we've found. We've had a few of these (and many others), and unlike others, these have never broken or snapped open when they've been thrown or dropped. The clever weighted-end straw is also great: liquid comes up through the straw at nearly any orientation that the cup's being held in. And the straw's valve-like tip won't leak when tipped over. But it's not perfect: the straws are hard to clean and eventually need to be expensively replaced, it's very unforgiving if the lid's not screwed on perfectly straight, and there's a weird issue with fluid dynamics: if there's a large temperature difference between the liquid and the surrounding air, the pressure change as the temperatures equalize often forces some of the liquid out of the straw in a slow leak. So they're imperfect, but they're the best we've found in an otherwise miserable category.
JJ Cole Urban Bundleme: Effectively, a sleeping bag for strollers so you can walk in cold weather and your kid stays warm. It's much easier than wrapping a blanket around your kid and hoping it stays in place, doesn't get kicked off, and doesn't drag on the ground or get caught in the wheels. The Bundleme has slits in the back for passing the straps through, which keep everyone and everything securely in place, and it can completely unzip for easy removal of accumulated lint and Cheerios at the bottom. (It even unzips entirely if you want to only use the back half.) The outside is water-resistant and there's a little pocket on the side. We chose the Toddler size, which also fits our friend's 6-month-old perfectly well, so it's probably worth skipping the Infant size.
Safety 1st pinch/door-slam preventer: We don't know if all kids love closing doors, but ours sure does. These are surprisingly good: they can go on either the outside or inside of the door to protect against slams or hinge-pinches, they're small and subtle, and they hang nicely on the doorknob when not in use.
Skip Hop big animal bath towels: Bigger and better than most baby or toddler towels. Our kid quickly outgrew most others, but these still wrap completely around him. The hood is both adorable and convenient for alignment and hair-drying. They dry quickly, and they've held together through almost two years of heavy use so far — they haven't faded at all, and not a single animal piece has fallen off in the wash. The included washcloth-mitts are just as good, too.
Aden + Anais big washcloths: Big, thick bath washcloths that hold a lot of water. They're much softer than terrycloth (great for face-washing), and they've proven extremely durable. Highly recommended.
Pampers Cruisers diapers: We've tried most diaper types (including a brief cloth attempt), and these have always worked best for us. They're soft, they fit well without much bulk, and they hardly ever leak (as long as you don't forget to pull out the leg ruffles). The Extra Protection overnights are especially great, too. Our strategy for sizing is simple and has served us extremely well: if there's ever a leak, especially at night, we go up to the next size.
North States "Superyard" (jail): This wooden jail is great-looking, heavy, sturdy, and secure. We always get compliments on it. The wood is high-quality and hasn't chipped or cracked at all, and it was extremely well-packaged on arrival. Our kid was able to climb out of his crib at its lowest setting, but still can't climb out of this because there aren't any horizontal foot supports: it's all smooth vertical bars. (He also just likes being in it, so he doesn't usually try.) The door is a great feature, although you'll need a toy-clip rope if you want to hold it open. It's not portable, and is for semi-permanent setups: it's heavy and doesn't collapse easily. (This plastic one is portable and lightweight, but not nearly as good. Suitable for leaving at grandparents' houses.) And we recommend the 2-panel extension: it gives much more room inside.
Once again, if you have any questions about what we liked and didn't like about these or any other baby or toddler products, you can email Tiff and she'll be happy to help.